Job Networking and Support Organizations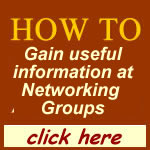 The following are faith-sponsored, but non-sectarian and welcome all, and they meet at various days of the month. The largest groups, such as Roswell UMC and North Point Community Church, may have 200+ job seekers present, and many offer smaller, special interest groups as well as pairing up with a mentor. The groups with which I am most familar are these, and please contact me for others I should add:
Good News: The job market has greatly improved and job seekers are finding new employment much faster!
Bad News: Because the job market is so much better, many Networking Groups have ceased meeting. The following groups still do meet however, and I recommend you attend at least one or two.

Atlanta
Ben Hill UMC (TIBS) (Southwest Atlanta) Meets every 2nd and 4th Thursdays.
Holy Spirit Catholic Church (Northwest Buckhead) 4465 Northside Drive NW, Atlanta, GA 30327. (Directions) Sponsors CAREERministry that meets first Thursdays at 6:30pm in McDonough Hall. Often has recruiters present at meetings.

Cobb County
Catholic Church of St. Ann in Marietta, GA Career Quest meets every Tuesday at 6:30 pm. For directions, call (770) 552-6402; voice mail and messages, (770) 552-6400 ext. 6104. Located at 4905 Roswell Rd, Marietta, GA 30062. (Note: If you are not familiar with the Atlanta area, there is more than one "Roswell Road"; be certain you are on the right one.)
First Presbyterian Church of Marietta Meets 3rd Monday monthly, Career Transition Ministry meetings are held in the main building at 189 Church Street 30060 in the Track 25 room downstairs.
Johnson Ferry Baptist Church (Marietta) - Meets first Mondays at 6:15pm for networking and resume review, followed by speaker at 7pm.

Fulton County - North
Dunwoody Baptist Church - Meets first Tuesday of each month from 6:30-8:30 pm in D-300.
Dunwoody UMC. Meet one-on-one with individual career transition "coaches" who will help guide you during times of career transition and or job searching. Meetings are the fourth Tuesday of the month (except November and December) from 7 - 9 p.m. in the Francis Asbury Room B. Contact Joann Akers at akersjoann@gmail.com or 678-352-8334 with questions.
North Point Community Church (Alpharetta) - Meets every Monday 7:45am - 9:45am. Generally will have 200 attending the main meeting, plus several smaller, industry-focused subgroups.
Perimeter Church (Johns Creek) - Crossroads Career Ministry, meets third Monday monthly from 6:30 - 8:30
Perimeter Jobs Seekers Meets every Friday for free donuts and coffee from 7:30am - 9:30am, at Lakeside Commons, 980 Hammond Drive Suite 670/680, Atlanta 30328
Roswell UMC - Meets 2 & 4 Mondays, generally will have 300+ in attendance, excellent supper for $3! Has many activities on the day of the meeting, check the web site for details. Highly recommended..
St. Brigid Catholic Church in Alpharetta, GA (3400 Old Alabama Rd, Room 135, 30022; map ) Sponsors The Employment Network (TEN) which meets weekly on Tuesdays from 7pm - 9pm.
Gwinnett County
Cross Pointe Church in Duluth - Meets 1st and 3rd Thursday in the Groups Building, Room G110, providing a teaching session from 7:00 to 8:00 p.m., and a networking opportunity from 8:00 to 9:00 p.m. 1800 Satellite Blvd, Duluth 30097
First UMC of Lawrenceville (LEAP) - Meets first Wednesday monthly for networking at 7pm, 395 West Crogan Street, Lawrenceville 30046, 770-963-0386

South Metro
First Baptist Church of Peachtree City, 208 Willowbend Rd, Peachtree City, 30269. Check their networking web site for more info. Meets Friday mornings from 7:30 - 9:30 in the Fellowship Hall. I have had good feedback from attendees.
Other Support and Job Networking:
Jewish Family and Career Services
Non-profit agency offers extensive employment counseling through their Career Workshops and maintains a Job Bank of current openings referred to them. Meets first, second, and third Thursdays in their offices at 4549 Chamblee-Dunwoody Rd, Atlanta 30338. They also have a support group for those who are currently looking for employment. The weekly sessions will be designed to help members manage the emotional stress of being unemployed. The group will meet on Mondays from 11 - 12:30 pm. At JF&CS (4549 Chamblee Dunwoody Rd.). The groups are free, but registration is required. Call 770.677.9496 to register.
VetBuds
Non-profit group whose members share a common bond of military service and the desire to provide assistance to veterans. Three groups in metro-Atlanta and more on their web site::
- North Fulton County group meets for breakfast every fourth Wednesday at 7:30 a.m. at The Uptown Cafe, 9850 Nesbit Ferry Rd, Johns Creek, GA.  For information contact  Info@VetBuds.US
- West Cobb Chapter meets every other Thursday, from 0730-0830 at The Daily Grind 3960 Mary Eliza Trace Marietta, Ga. 30064 (770) 422-9480.  For info, contact Dr. Paul Blumsack @ 770-362-6430 or John Forrest 404-313-1369
- Gwinnett Chapter meets on the 3rd Thursday at 0715 at the IHOP at 955 Lawrenceville-Suwanee Rd, Lawrenceville, GA (about 1/4 mile north of the intersection with Hwy 120 in the Home Depot shopping center)
Metro Atlanta Association of Professionals (MAAP)
MAAP's mission is to create an inclusive environment for the Metro Atlanta LGBTA+ community that allows for professional development through networking, high-quality events, training, mentoring and education.  Monthly meetings generally on thrid Thursday, plus several luncheons during month. Has job lists and posts resumes online.
The Financial Executives Network Group
The FENG is a senior level "circle of friends." Members have typically been Chief Financial Officers, Controllers, and Vice Presidents of Finance, Treasury, Tax, or Mergers & Acquisition, as well as other financial disciplines. The Atlanta Chapter has 1300+ members and meets on the second Wednesday monthly, 5:30 - 8:30. For additional info, contact the Chapter Chairman, Dennis Bush at (678) 231-8193 or email dcbush11@mindspring.com.